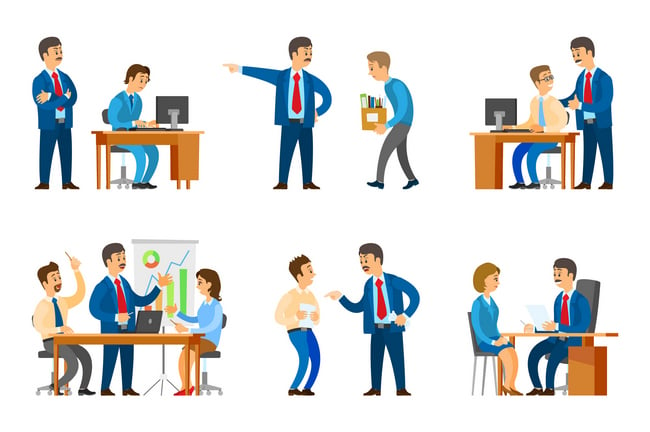 Employees are often promoted to management because they have the technical skills to be successful in their position. Subsequently, they are not given the tools to be effective in their new role. Very often a new manager may not be aware of issues such as:
Mismanaging their incompetence
Angry and everyone knows it
A lack of clarity with direction
Micromanaging
Setting employees up to fail (often unwittingly)
Picking favorite employees
Low availability
Taking credit for others work
Don't recognize accomplishments of others
False promises
Not standing up for employees
Overworking employees
Poor listening skills
Always right
… all of which could lead the staff to say: "It's time to look for another job."
But it doesn't end there! There are other frequent occurrences of "bad-boss syndrome":
Not giving a problem employee honest feedback because of fear of conflict- then surprising them at a review.
Not delegating, rather than developing employees' skills.
Assuming your team knows exactly what you want them to do without giving them specific direction.
Fortunately, you can avoid a bad boss scenario and the consequences they bring.
… and potentially be considered one of the 100 Best Companies to Work For as found on Seattle Business Magazine each year.
Do you have newer managers or employees who have recently been promoted in desperate need of some training? (Maybe you are a new supervisor and want to accelerate your training.)
COMING SOON!
Our most popular manager development workshop is coming up on Friday, March 15 from 8:30am to 12:30pm. These fill quickly, so register here soon!
WHO:
Our workshop is designed for leads, new supervisors or management-potential employees. To successfully complete this course, attendees should:
Be in a management or lead role
Be within the first three years of your managing career
ABOUT:
Our workshops are an invigorating half day of building leadership skills for managers while working alongside their peers from other awesome Seattle companies.
Our workshop covers interactive behaviors as a peer and how those behaviors change in a management capacity.
This interactive workshop will provide you with the tools to better manage, as well as teach you how to better communicate upwards and with direct reports.
WHERE:
This workshop is conveniently located at the Mercer Island Community Center with plenty of free parking. Address: 8236 SE 24th St, Mercer Island, WA 98040
WHEN:
March 15, 2019 | 8:30 am - 12:30 pm

HOW TO REGISTER:
Registar by reaching out to Melanie Vargas personally by email: melanie@swifthrsolutions.com or register directly on the website here.
NOTE:
We limit each of these workshops to 20 attendees to ensure the best learning experience.
Syllabus:
Click here for a syllabus. Feel free to reach out to Melanie for more information or questions.