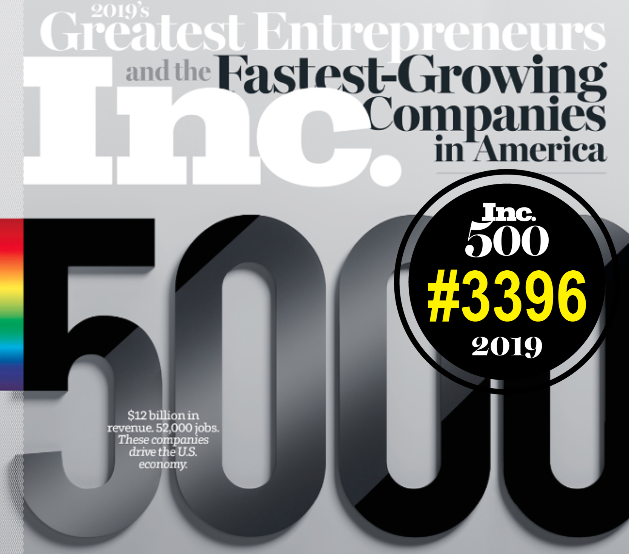 For the REALLY fun and BIG news!
We learned this week that we made the Inc 5000 list again this year, moving up to #3396! (from #3486 last year)! We grew 105%, thanks to our amazing team!!
Swift HR Solutions has earned the rank of 3396 on the 2019 Inc. 5000 list of the fastest-growing private companies in America.
This achievement puts us in rarefied company. The elite group we have joined has, over the years, included companies such as Microsoft, Timberland, Vizio, Intuit, Chobani, Oracle, and Patagonia.
For decades, Inc. has welcomed the fastest-growing private companies in America, and this year's set of winners places the bar very high indeed. Companies that made the list, on average, have grown six fold since 2015. During a stretch when the economy grew just 12 percent, that's a result most businesses could only dream of.
Green Grass Foods, Rad Power Bikes, Discuss.io, TomboyX, Seeq, Snap! Raise, Stay Alfred, Legwork, and Yapta are just a few of the Seattle-area startups and privately held tech ventures that made this year's Inc. 5000 ranking of the country's fastest growing privately held companies. Local companies also on the list include: Evergreen Market, MOD Pizza, Medbridge, Kalles Group, and Red Cloud Consulting.
The 2019 Inc. 5000 winners achieved an astounding three-year average growth of 157.4 percent with a median 2018 revenue of $47.5 million. The Inc. 5000's aggregate revenue was $237.7 billion in 2018. Complete results of the Inc. 5000, including company profiles can be found at www.inc.com/inc5000.
"The companies on this year's Inc. 5000 have followed so many different paths to success," says Inc. editor in chief James Ledbetter. "There's no single course you can follow or investment you can take that will guarantee this kind of spectacular growth. But what they have in common is persistence and seizing opportunities."
The annual Inc. 5000 event honoring the companies on the list will be held October 10 to 12, 2019, at the JW Marriott Desert Ridge Resort and Spa in Phoenix, Arizona. As always, speakers include some of the greatest innovators and business leaders of our generation.
"We are thrilled to be recognized by Inc. magazine for the second year in a row for our company's growth, as it demonstrates the continued value our Clients place on our service model and our team's contributions to their success" said Shannon Swift, CEO and founder of Swift HR Solutions. "We are honored to join this esteemed list of U.S. entrepreneurial success stories!"
Thank you to everyone – this is a special award, and it is super fun to make the list two years in a row.
---

About Inc. Media
Founded in 1979 and acquired in 2005 by Mansueto Ventures, Inc. is the only major brand dedicated exclusively to owners and managers of growing private companies, with the aim to deliver real solutions for today's innovative company builders. Inc. took home the National Magazine Award for General Excellence in both 2014 and 2012. The total monthly audience reach for the brand has been growing significantly, from 2,000,000 in 2010 to more than 20,000,000 today. For more information, visit www.inc.com.
The Inc. 5000 is a list of the fastest-growing private companies in the nation. Started in 1982, this prestigious list has become the hallmark of entrepreneurial success. The Inc. 5000 Conference & Awards Ceremony is an annual event that celebrates the remarkable achievements of these companies. The event also offers informative workshops, celebrated keynote speakers, and evening functions.
For more information on Inc. and the Inc. 5000 Conference, visit http://conference.inc.com/.